The OPW CleanEnergy CNG 3-Way Valve and Type 2 Nozzle features the latest in industrial and commercial fueling innovations. A Fueling System which bridges the gap between convenience and comfort, without sacrificing flow or reliability. Ergonomically designed to be easy to use and prevent unnecessary wear and tear during the fueling process.
FIL-MASTER™
CC600 Series Fast-Fill/
Fleet-Fill Nozzles (NGV1 Type 2 or 3)
OPW Fil-Master™ 600 Series Fast-Fill/Fleet-Fill Nozzles are designed for high-flowCNG fueling systems. Applications include quick-fill fueling of automobiles, lighttrucks, shuttle buses, vans and time-fill or overnight fleet fueling.
Features & Benefits
Hose Connection Options – Time-Fill Applications – 4/4 Sized Hose (1/4″ Inlet and 1/4″ Vent). Fast-Fill Applications – 4/6 Sized Hose (3/8″ Inlet and 1/4″ Vent)
Ergonomic Grip – Duratuff® Grip provides maximum user comfort and control
Duratuff® Shell – Specifically designed to handle operational wearand- tear as well as protecting your vehicle from dents and scratches during fueling.
CNG Type 2 Fueling System Extension Options – Offers the convenience of connection flexibility. Operators can connect to vehicles regardless of the application. Use one of four different connection options; 3/4″, 45°, 4″ Rigid or 17″ Flex Hose to help in fueling difficult-to-reach receptacles or tanks.
CC600S Series Nozzle – OPW CC600S (3,000 psi) and CC600P36S (3,600 psi) Nozzles feature an internal filter to capture gas-borne debris commonly found in CNG fueling systems.
Materials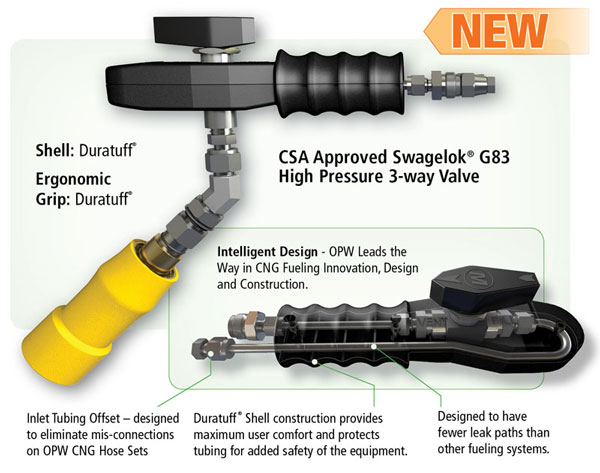 DR-36/30 Nozzle Docking Receptacle
This is a Nozzle Docking receptacle to be used ONLY for Type-2 & Type-3 nozzle mounting purposes. There are no working internals, therefore it may only be used as a docking storage device.
NOTE: It shall not be used to dock a Type-1 nozzle.
Nozzle Types
Type 1– Nozzle with an integrated vent valve system. This vent valve is controlled by the single lever operation which will safely vent the gas trapped between the receptacle check valve and the nozzle inlet valve. After the venting process, the nozzle will disconnect from the vehicle's receptacle.
Type 2– The vent valve operating mechanism is external to the nozzle. Venting is required prior to disconnection of this type of nozzle.
Type 3– The fueling hose is automatically depressurized below 50psi (3.4Bar) at dispenser shutdown. The nozzle will vent low pressure gas between the receptacle check valve and the nozzle inlet valve.
NOTE: This device shall not be installed on a vehicle nor be connected to a pressurized source of any type.